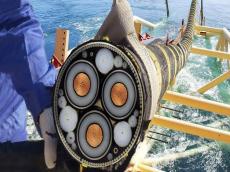 Work on laying fiber-optic connection line on the Caspian seabed will start very soon, said Kazakh Ambassador to Azerbaijan Alim Bayel at a roundtable discussion on "Azerbaijan-Kazakhstan relations: regional cooperation", Azernews reports.
"Practical work on this project will start soon. All this is done to ensure telecommunication independence of the countries and maintain information security," Alim Bayel noted.
The project, known as the Trans Caspian Fiber Optic (TCFO), will link Azerbaijan and Kazakhstan along the bottom of the Caspian Sea. It will be implemented by the Azerbaijani backbone internet provider, AzerTelecom, and Kazakhstan's Transtelecom and KazTransCom companies. The cable, which will measure nearly 400 km (249 mi) in length, is expected to transmit data with a capacity of at least 4-6 terabits per second.
The project is part of the "Digital Silk Way" mega project, which provides for the formation of a digital telecommunication corridor between Europe and Asia. Once complete, it will serve as the most advanced route for digital connectivity between two continents, and make a significant impact towards enhancing digitalization and connectivity in the region, including Caucasus, Central, and South Asia.
The construction of the cable is also expected to improve access to the Internet and digital services for 1.8 billion people residing in the Caucasus, the Middle East, Central, and South Asia regions. It will also strengthen Azerbaijan's telecommunication system and domestic digital market, as well as attract investments in the non-oil sectors, and develop capacity within e-services and cybersecurity.