The visit of the Russia's Accounts Chamber staff head Sergey Shahray to Baku is scheduled.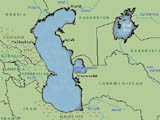 As the Azerbaijani Accounts Chamber head Namik Nasrullayev told Trend, the plan for holding the joint collegium of the both countries' high auditing bodies will be prepared.

"It will take place in June in Baku, last year it was held in Moscow", he said.
The auditors usually identified the tasks planned for implementation next year. Joint work with Russian auditors on Caspian ecology has been already included in the 2006 plan. Joining of the Kazakhstan counterparts to these events is planned.
"It will be the first time when the work which identifies problems and the role of the state in funding these issues to be carried out", Nasrullayev noted.