State Oil Company of Azerbaijan Republic (SOCAR) has dispatched 193 thousand 197 tons of crude and oil products from Baku since January.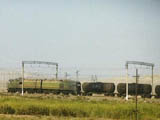 According to AzerTAg, diesel claimed 109 thousand 901 tons of overall amount of cargo exported, while aviation fuel - 5 thousand 116 tons, motor gasoline - 8 thousand 561 tons, refined oil - 23 thousand 862 tons and mazut - 45758 tons.
SOCAR reports crude export via Novorossiysk seaport was postponed due to the severe weather conditions. The tanker with 85 thousand tons of oil was dispatched in February.