One more station of "Memar Ajami-Dernegul" metro line will be put into operation in September, 2008.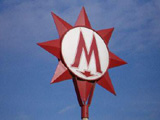 As APA reports citing the Head of the Baku Metro Taghi Ahmadov, conditional name of the new station might be "Nasimi": "However, the State Commission can name it differently".
Mr.Ahmadov also said that the distance from "Memar Ajami" station to "Nasimi" will be 1.7 kilometers. "Currently work on destruction of establishments erected on this line is on. There are 21 establishments constructed on the line and all of them will be pulled down".