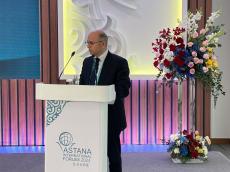 Minister of Energy Parviz Shahbazov, who participated in the Astana International Forum, spoke at the session on Regional development in renewable energy: alternative ways to ensure energy security, Azernews reports, citing the Azerbaijani Energy Ministry.
Emphasizing that the development of green energy is currently encouraged by energy transition, environmental protection policy, as well as concerns about energy security, the Minister said that renewable energy sources are one of the alternatives that provide diversification for sustainable energy supply.
It was stated that Azerbaijan is developing "green energy" in order to ensure the energy security of its partners and not itself, and to become a country of green growth with a clean environment by 2030. According to our renewed strategic energy partnership with the European Union, green energy is one of the sources of additional gas supplies from Azerbaijan to European countries. Extensive use of renewable energy sources allows Azerbaijan to become both an exporter of green energy and increase its export opportunities due to large volumes of saved gas.
Also, cooperation with international energy companies on more than 28 GW of green energy projects, market research confirming the commercial feasibility of production and export of green hydrogen implemented with the support of the EBRD, commissioning of production capacities of 7 GW by 2030 and plans related to the export of green energy were discussed: It is planned to export 4 GW of green energy to Europe via the Caspian-European Green Energy Corridor, and 1 GW to Türkiye and Europe via Nakhchivan, which has been declared a green energy zone. The entry of our country into the European energy market in a new status is supported by the EU."
It was noted that Azerbaijan is now transferring its strategic development experience related to oil and gas resources and their access to diversified infrastructures to global markets to green energy. Our strategic guide in the implementation of this new mission is the President of Azerbaijan Mr. Ilham Aliyev`s will and determination.
The event continued with panel discussions. Companies from Kazakhstan and the countries represented at the event were invited to participate in the projects on green energy and energy transition in Azerbaijan.