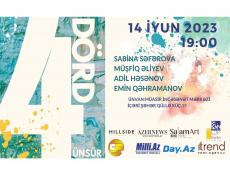 By Azernews
Laman Ismayilova
Icherisheher Center for Contemporary Art will present four visual mini-series of art works on June 14.
The exhibition "The Four Elements" will include four visual mini-series of art works by Sabina Safarova, Mushfig Aliyev, Adyl Hasanov and Emin Gakhramanov, who embodied four natural elements, Azernews reports.
Water, Air, Earth and Fire – sixteen freely interpreted "portraits" that brought together different artists, both in terms of their experience and age category. They prove, that the world around us is an endless object of study.
The exhibition "The Four Elements" is an extraordinary view of four artists on the world, in which four elements of equal size embody its material Essence.
A world, where water, air, fire and earth "live" in an inextricable symbiosis of interpenetration. Where one without the other is unthinkable a priori. Where a person sees and feels each of them according to that person's perception. And therefore, comprehends by virtue of their own worldview.
As Sabina Safarova notes, the interweaving of all four elements in one place is a unique phenomenon.
"Very few countries can brag about entwining all four elements of nature- water, earth, wind and fire - in one location. The Absheron peninsula simultaneously holds all these beauties. Inspired by this, I decided to depict all four elements on canvas and laid out the events around one central figure - the Maiden Tower, which is the most majestic and mysterious cultural monument of our city. Like a true lady, Maiden Tower hides her age.The date of its construction remains uncertain to this day. There is no universally accepted version of the purpose of creation and origin of the tower, hence there are various legends associated with it, which further fuel the interest of local residents and guests of our capital," she said.
Mushfig Aliyev emphasizes that the elements for him are the richness of ornaments:
"The elements for me are the richness of ornaments, which is an integral part of the Azerbaijani culture, which I relied on in creating this mini series. It was important for me to create a symbiosis of the classical approach and the Absheron school: alpha and omega, for my work," the artist said.
Adil Hasanov says that for him any element is, first of all, a palette:
"For me, any element is, first of all, a palette. Each of them has an incredible variety of colors and shades.Trying to artistically express the essence of the four components of our world, the task, one might say, is unsolvable. You can only touch them… Through lines and images. Maybe that's why they were born on canvases different in embodiment and direction. Perhaps even at first glance they are not related to the series. Only the artist operates with his own vision, and therefore my "arguments for incarnation" became the very palette that absorbs every manifestation of all four elements…," said Adil Hasanov.
Emin Gakhramanov sees the four elements through the prism of love, joy, abundance of light:
"I see the four elements through the prism of love, joy, an abundance of light... And in my mind all this is associated with a Woman... In each of the manifestations of the elements, one can see desire and passion that move this world. No matter what is asserted, even contemplation does not deprive humanity of appreciating what is bestowed upon us from above ... Like a Woman who became the vessel for the continuity of life ...," he said.
Exhibition curator: Ivanaeva Tatiana
Exhibition opening: June 14, 2023 at 19.00.
Address: Center for Contemporary Art. Icherisheher, st. Gulya, 15.
The exhibition will run through June 18, 2023. Admission is free.
Media partners of the event are Azernews.Az, Trend.Az, Day.Az and Milli.Az