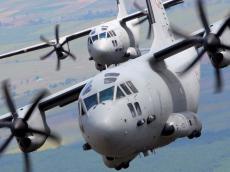 By Azernews
Rena Murshud
An Azerbaijani delegation was in Italy for the contract signing in the presence of representatives of the Defense Ministers of the two countries, Azernews reports.
The Italian concern Leonardo announced the conclusion of a contract for the supply of C-27J transport aircraft for the Azerbaijani Air Force.
"Originally linked to the energy sector, the cooperation between Italy and Azerbaijan is now extended to defense industry products thanks to the valuable input of the working group of the Italian Ministry of Defense. The agreement is part of a large-scale modernization program for the Azerbaijani Armed Forces, which are increasingly paying attention to the products of Italian industry," the head of the company representative stressed.
It is noted that the C-27J Spartan aircraft is capable of performing a wide range of tasks for the defense and protection of civilians, "considered the ideal aircraft" for various tasks, paratroop and cargo landing, special forces operations, humanitarian aid, and disaster relief.
Also, recall that Italy's Leonardo has been closely cooperating with Azerbaijan's AZAL since 2006. During the entire period of cooperation, many projects were implemented, including the supply of aircraft, helicopters and more. Among the projects of recent years are the supply of a navigation system and an aircraft landing system at international airports built in the liberated territories of Azerbaijan.
Besides, initially linked to the energy sectors, the collaboration between Italy and Azerbaijan is now also extended to defense industry products thanks to mutual relations between the two countries, and the valuable contribution provided by the Italian Ministry of Defense working group.