The government plans to increase salaries of employees of companies financed from state budget except diplomats and governmental officials in 2006.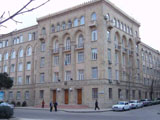 According to Avaz Alakbarov, minister of finance, the increase will be referred to 890 000 workers. The highest increase is expected for doctors.
The government will also tighten control over budget expenses. Thus, The Ministry of Finance plans to hold revisions in financial organs of 25 Azerbaijani regions as well as 6 central executive powers.
Similar checks are also expected in 9 high schools as well as in certain projects of Melioration and Water Economy Agency, Culture and Transport Ministries, State Committee on Refugees, "Azersu" Joint-Stock Company, State Commission on Emergencies, Baku City Executive Power and Baku Subway Office.
The minister also stated budget incomes of Azerbaijan will exceed USD 10 billion in 2009 and in some years, the budget will be approved without deficit.