SPMC started work on new registration of concluded leasing contracts. Lesees are due to address to SPMS for re-registration of contracts.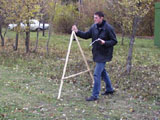 The working groups of the State Property Management Committee (SPMC) hold monitoring acts in Baku and other regions of the country to reveal illegal use of state property and objects using without conclusion of leasing contracts, ineffective use of nonresidential territories and violation of leasing contracts, Trend reports referring to a news release spread by SPMC.
The State Committee established a commission on prevention of illegal construction at the territory of state objects and privatized objects, as well as change of profile and their putting at smb's disposal without license of the State Committee.