Minimum salary can be increased by 33% this year.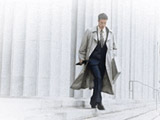 As APA reports, the Minister of Finance Avaz Alakbarov stated: "Although we plan this process to take place in September-October, pursuant to the President's order, the problem must be solved within the first half of the year. The Ministry of Finance already holds calculations with relevant bodies in this connection."
The Minister also noted that 2006 budget receipts and expenditures are planned to increase by 67% and 64%, respectively. Funds allocated from the budget for entrepreneurship development in the country also increased by 2 times and totaled approximately $100 million: "Moreover, 2009 budget receipts and expenses are expected to exceed $10 billion. Very likely, the budget will have no deficit during this period. In addition, some structural changes and establishment of supervising-inspection groups of the Ministry of Finance in the regions are also planned. A decision on formation of such groups in 10 regions of the republic will be adopted in these days".
The Minister speaking about development of mortgage, informed that the National Bank of Azerbaijan (NBA) had already been paid AZM 30 billion and if necessary, they're ready to transfer additional AZM 100 billion this year.

Mr.Alakbarov stressed that the law on hallmarking and stamping had also been adopted in connection with preparation of precious metals in the country. The Minister stated that the Cabinet of Ministers would adopt 17-18 decisions in this connection.