Israeli businessmen met with representatives of the northern regions at the Olympic Complex in Guba on February 21.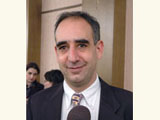 Israeli Ambassador to Azerbaijan, Arthur Lenk held a press conference after the meeting. Responding to the question "What is Israel's opinion on Russia-Iran talks of joint enterprise to enrich uranium for Tehran on Russian territory", the Ambassador said: "Israel declares that Iran creates danger to the world by such statements and by its nuclear activity. IAEA's decision adopted a week ago demonstrates that the international community determined to prevent this danger."
The diplomat stated that there existed a model religious tolerance in Azerbaijan. Commenting on the meeting between the Israeli Jewish businessmen and their counterparts in Guba, Mr. Lenk said this is the best answer to the latest ongoing processes on cartoon crisis.