The National Bank of Azerbaijan (NBA) set to implementate the pilot project on introduction of the new system of foreign banking control FinA International (FinA).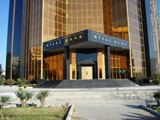 It operates based on modern information technologies for analyzing and collecting financial data from the Azerbaijan commercial banks, Trend reports citing the NBA press-release. The basic function of the system is the timely providing the banking supervision officers with the proper financial analyses.
Introduction of the FinA pilot system is performed at the result of the USA Agency for International Development (USAID) joint activities and the National Bank. As the press-release notes NBA plans to join the FinA group of users, set up by USAID.