"Azerbaijan does not intend to stop importing Russian gas," Minister of Industry and Energy Natig Aliyev stated on Tuesday.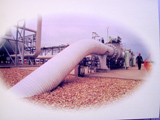 "We don't aim at stopping Russian gas imports. This move would not be effective for Azerbaijan's the fuel and energy balance and its developing economy," Aliyev told reporters after a meeting of the Russian-Azerbaijani intergovernmental economic cooperation commission earlier in the day, Itar-Tass reports
The republic will continue to import Russian gas within the next few years, but "everything will depend on gas prices," he added.
"The price has been within the boundaries of economic effectiveness so far, it suits us. The use of Russian gas helped us release considerable quantities of fuel oil which earlier was burnt at power plants to produce electricity," the minister went on to say.
He said it is premature to raise the issue of giving up Russian gas imports, underlining that Azerbaijan's demand for this fuel increases each year.
At the same time, Aliyev did not rule out Azerbaijan will be able to produce enough gas in the future to meet its needs.
The state oil company has a five-year program aimed at boosting domestic gas production. Specifically, the republic intends to double the output - to 4.4 billion cubic meters a year - at the Gyuneshli field in the Caspian Sea.
"There are opportunities to increase gas production at the Shah Denize field, where the drilling of advance bores is underway. Initially, we planned to produce 8.1 billion cubic meters of gas there, but it is clear now that the target can be exceeded by one or two billion cubic meters. I believe the additional gas will be used for the needs of Azerbaijan," the minister said, emphasizing that domestic gas is much cheaper.
Aliyev also said Azerbaijan will not decrease electricity imports from Russia in the nearest future, which will remain at 1 billion kW/h. One third of power will be returned to the grid operated by Russia's RAO UES electric monopoly, he said.
Azerbaijan has been importing Russian gas since the late 1990s. In 2006, it plans to buy 4.5 billion cubic meters of gas, the same amount as last year.
On January 1, 2006, Russia hiked gas prices for Azerbaijan from 60 dollars to 110 dollars per 1,000 cubic meters.