The "Shimal" State District Power Station (SDPS) has been operating in optimal mode since the day before yesterday.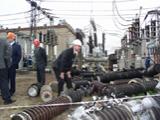 So, 40 hours of unceasing planned repairs were implemented in the power station from 01:37, Saturday to 17:56, Sunday, APA reports.
Turkish and EPRO Belgian CMI companies directly took part in elimination of some problems arisen in sets and units during the period of exploitation of the power station.

The director of "Shimal" SDPS Vugar Shahmuradov noted that repairs implemented could be carried out without their participation as well, that's to say, they did not play significant role in this operation.
Participation of those companies was necessary due to the commitment they had undertaken. And it would be an unofficial step not to benefit the services provided.