It's planned to construct a module power station in Nakhchivan AR soon.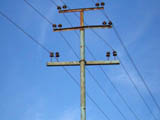 As APA reports referring to the press-service of the Azerenergy Open-Joint Stock Company (OJSC) and the Chief of the Nakhchivan Energy Office Yasin Seferov, initial preparatory work under the project has already been launched.
10 hectares of area was allocated in the territory of Nakhchivan called 4th block. The Chief of the Office added that realization of this project would improve electricity supply of cities and regions of AR which were blockaded and received electricity mainly from the power networks of Iran and Turkey.

It should be noted that this project is implemented under the State Programme on socioeconomic development of the regions (2004-2008).