Yesterday a staff meeting on the results of 2005 was held in the Ministry of Communication and Information Technologies.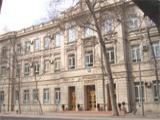 As APA reports, Minister Ali Abbasov said that the communication had 2.3% share in the GDP in 2005. Communication services for the population were AzN 7.3 million (5.2%) more last year in comparison with 2004 and were in a total amount of 55.2 million manats.
Communication establishments invested 31.5 million manats last year and that is 13.3 million manats more in comparison with the corresponding period of last year. Totally 130.9 million manats were invested and that is 127.4% more in comparison with last year.
The allocations invested to the communication comprise 2.4% of the general investment to the state economy.
164 185-number automated telephone stations (ATS) and 51 various-powered television and radio transmitters were operated in 2005. 130 post-offices were built in the villages and 7 post-offices were built in cities and settlements. 9 branches of post-offices and central post offices were capitally repaired.

The Minister said that automated telephone stations comprised 55.5% of the republic telephone network at the beginning of last year. This indication was 63.5% early this year and 70.4% and 56.9% in Baku city telephone network and other parts of republic accordingly.
Every 100 people shared 12.3 telephone sets at the beginning of the year and that's 13.13 now. This indication is 29.7 telephone sets in Baku and 8.4 in other parts of the republic. Every 100 families shared 55.6 telephone sets. The indication is 105.1 and 38.7 in other regions of the republic.