A business forum with participation of Israeli and Azerbaijani businessmen will be held in Baku and Guba on February 20 and 21.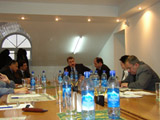 As APA informs, 5 Israeli and about 40 Azerbaijani companies will participate at the event. The Israeli Ambassador to Azerbaijan Arthur Lenk told it in a press-conference held in connection with the forum.
"Israel is a developed country. Our businessmen are interested in agriculture of Azerbaijan at present and we can see great opportunities in Azerbaijan", A.Lenk said. The head of the Office of the Ministry of Economic Development Samir Veliyev said that cooperation on health care, personnel training and other several fields had been achieved between Azerbaijan and Israel so far.
S.Veliyev speaking about prospects of cooperation said that main attention will be directed to agriculture in this cooperation. According to the Ministry's official, the main organizers of the Israeli-Azerbaijani business forum are the Ministry of Economic Development, Azerbaijan Export and Investment Promotion Foundation (AZPROMO), Ministry of Agriculture and Institute for Export of Israel.