Presentation of the survey results on "Extractive Industry Transparency Initiative" (EITI) took place at "Hyatt Regency" hotel today.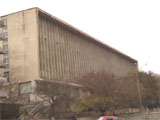 As APA reports, the survey was conducted by the Centre for Economic Researches (CER) and NGO Coalition to Improve Transparency in Extractive Industries. The chair of the CER Administrative Board Gubad Ibadoghlu opened the presentation ceremony with an introductory speech and said that the survey had been conducted among oil companies, state authorities, mass media, NGOs and independent experts: "The objective of the survey is to study the opinion of companies concerning transparency of extractive industry, role of NGOs and strategy implemented by them".
The economist of the centre Azer Mehdiyev informing of survey on oil companies said that over 20 companies operated in extractive industry and each of them had been sent questionnaires: "10 companies responded to the appeal, 8 of them filled in questionnaires: "The Karasu Operating Company, BP, Salyan Oil, Anshad Petrol, LUKoil, SOCAR, Shell and Statoil participated in the survey. Although all companies joined the EITI campaign, most of them do not promulgate their activity to the public. Most of foreign companies are not interested to announce individual reports on their payments to the government. Only three companies – BP, Shell and Statoil showed interest in this work".

The representative of SSC Rauf Salimov said that because the survey had been answered by only 40% of participants, the results should be considered invalid: "We must find out why other companies were not interested to answer the survey? They should have been convinced of it".
Then the results of the survey encircling 10 state establishments were presented and it was known that some state establishments should take actions to ensure transparency in their own activity. 46 organizations were involved in the survey conducted on NGOs and mass media.
As to the results, it was stressed that usage of modern technologies is unsatisfactory in most NGOs and mass media institutions. Activity of NGOs regarding delivery of information to the public is not at a desired level. Half of respondents is displeased with activity of the NGO Coalition. Conclusive discussions were held at the end of the event.

The results of the survey will be published in Azeri and English.