Final decision on increasing authorized capital of Azerbaijan Microfinance Bank to be adopted in June.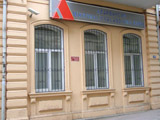 Results of 2005 were discussed at a general meeting of the stockholders of the Azerbaijan Microfinance Bank (AMFB) and regular meeting of the Supervisory Board held the other day, APA informs.
It was noted at the meeting that AMFB extended 9608 credits to businessmen over the last year and as a result, aggregate volume of credits provided by the Bank for 3-year period of activity reached 18285. Supplied credits allowed the AMFB credit portfolio to increase by 3 times and its volume formed $17.5 million. These indicators exceed the analogous ones by the beginning of 2005 by 169%. Indicators on assets of the Bank increased by 134% during the year and amounted to approximately $22.4 million. AMFB providing deposit services since May of the past year had its deposit portfolio in amount of $650 thousand in the reporting period and main part of it falls to share of physical persons.
Besides, the stockholders discussed the business-plan of AMFB for 2006 and issues on establishment of two new branches of the Bank (Baku and Lenkoran) in the first half of the year. They adopted a decision on expansion of management's composition. It should be reminded that AMFB has 4 branches in Baku and 1 branch in Sumgait, Ganja and Sheki.
The stockholders also discussed possibility to increase the authorized capital of the Bank. The Bank's authorized capital totals $6.85 million now and 18.2% of it belongs to the European Bank for Reconstruction and Development, 25.6% to International Finance Corporation, 25.6% to Black Sea Trade and Development Bank, 24.9% to KFW, and 5.7% to LFS Financial System GmbH Consulting Company. The final decision on this issue will be adopted in June this year.
The chief manager of AMFB Mr.Tomas Engelhard commenting on the results of the meetings held said that "the meetings were not aimed only at discussions of the future plans of the Bank. We also discussed the previous year's activity of the Bank. We do not intend to stop at our achievements and plan to end 2006 with higher indicators."