New structural sub-units were established, legal names of separate enterprises were changed in relation to reorganization of Azerenerji JSC.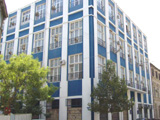 Azerenerji established Energy Supervisory Department, including the units audit, energy sale, analysis and consumption prediction, energy supervisory, installation of meters, exploitation and repair of networks, as well as inspection on supervisory over exploitation, in the Central Office, Trend reports referring to a news release spread by the Company.
The Department on Energy Transmission consists of the services exploitation and repair of electricity transmission lines, substations, connecting of new consumers. The functions of Bayva were prescribed to the newly-established departments and services.
Besides, 5 limited liability companies responsible for energy distribution were founded in the regions. The Ganja Regional Enerji Tejhizat Ltd will cover the subscribers of Ganja, Khanlar, Naftalan, Samukh, Goranboy, Tartar, Shamkir, Dashkasan, Gadabay, Tovuz, Aghstafa and Gazakh; the Mingachevir Regional Enerji Tejhizat Ltd - Mingachevir, Shaki, Gabala, Oguz, Balakan, Zagatala, Gakh, Aghdash, Yevlakh, Barda, Ujar, Goychay; the Imishli Regional Enerji Tejhizat Ltd - Imishli, Saatly, Beylagan, Agdam, Agjabadi, Fuzuli, Zardab; the ALibayramly Regional Enerji Tejhizat Ltd - Alibayramly, Sabirabad, Hajigabul, Salyan, Neftchala, Kurdamir, Shamakhy, ISmayilly, Aghsu; the Masally Regional Enerji Tejhizat Ltd - Masally, Lankaran, Astara, Lerik, Yardimly, Jalilabad, Bilasuvar.
The Aghstafa High-Voltage Network Ltd, Mingachevir High-Voltage Network Ltd, Imishli High-Voltage Network Ltd, Aghsu High-Voltage Network Ltd were established to increase quality of exploitation and management of high-voltage electricity transmission lines within the structural reorganization of Azerenerji.
New legal names were given to functioning and new power stations - Shaki Module Station - Shaki Nergy Hub, Astara Module Station - Astara Energy Hub, Khachmaz Module Station - Khachmaz Energy Hub, Nakhchivan Module Station - Nakhchivan Power Station, Baku Module Station - Baku Power Station, Azerbaijan SDPS - Azerbaijan Thermoelectric Power Station, Alibayramly SDPS - Alibayramly Power Station, Shimal SDPS - Shimal Power Station, Sumgayit TPS- Sumgayit Thermoelectric Power Station, Baku TPS-1 - Baku Thermoelectric Power Station, Araz HPS - Araz Hydroelectric Power Station.