The chair of the Supervisory Board of the Tekhnikabank Open Joint-Stock Company Etibar Aliyev refuted information on detention of employees of the Bank as a result of inspections implemented in the Bank by tax authorities.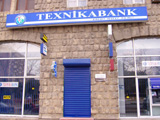 As APA informs citing E.Aliyev, employees of tax authorities had applied to the Bank with a court decision for investigation of banking operations of "Olimp" and "Buta" firms: "According to the court decision, signed and sealed checks, account forms on cash money transfer in the accounts of "Olimp In" LCC and "Buta A" LTD in the office of Tekhnikabank must be taken in accordance with their significance on the case. In this connection, employees of the Bank rendered necessary assistance to tax authorities".
According to E.Aliyev saying that news on detention of officials of the Bank are false, demanding or obtaining explanations from related employees must be accepted naturally.
E.Aliyev also said that tax authorities had taken documents relating "Olimp" and "Buta" firms from three branches and head office of Tekhnikabank and those documents are investigated. The Ministry of Taxes has no claims against the Bank and no operations are implemented in the Bank concerning account forms.
"The Bank operates in its previous order today. The Bank is open for population and its employees are at their workplaces. The bank does not have any problems with tax authorities or any other establishments. I think that this event will not alter activity of the Bank. The press writes that an official person was arrested. However, that person is at his workplace", - E.Aliyev informed.
The chair of the Supervisory Board of the Bank also refuted information spread by some mass media organs as if Tekhnikabank had close links with the former Minister of Economic development Farhad Aliyev and inspections were conducted in the Bank just because of this reason: "It is not related to any political motive and such news are aspersions cast on both the Bank and tax authorities. Tax authorities have not implemented any inspections in the Bank on the basis of political reasons".