Level of oil production in Azerbaijan has increased approximately by 2 times since 1991.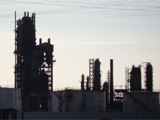 The minister of industry and energy Natig Aliyev informing journalists about it said that 22.2 million tons of oil, 5.8 billion cubic metres of gas and 22.3 billion kWh of electricity had been produced in the republic in 2005, APA informs. As a result, oil production increased by 6.672 million tons, production of gas by 8.2 million cubic metres and production of electricity by 1 billion kWh in comparison with 2004.
The minister speaking about oil-gas projects of Azerbaijan said that $15 billion had been invested in implementation of these projects so far: "More than $9 billion of it was utilized for development of the Azeri-Chirag-Guneshli field."
N.Aliyev also said that it is planned to increase production to 30 million tons next year. On average, 439 thousand barrels of oil will be produced daily within the framework of development of the Baku-Tbilisi-Ceyhan oil pipeline, Baku-Tbilisi-Erzurum gas pipeline and ACG. So, it is expected that 138 thousand barrels of oil will be extracted from Chirag, 226 thousand barrels from Central Azeri and 75 thousand barrels from Western Azeri.
According to N.Aliyev, 5 million barrels of crude oil has been pumped into BTC by now. Construction works under the first stage of the project on development of the Shahdeniz field were completed 91.5% and works in the South Caucasus gas pipeline completed 93.4% and natural gas is expected to be delivered to the Turkish party this year.