A meeting on the 6th anniversary of establishment of the Ministry of Taxes was held the day before yesterday.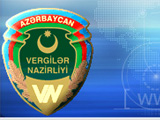 As APA reports, the Minister for Taxes Fazil Mammadov speaking about Heydar Aliyev's contributions to the establishment of Ministry of Taxes, stated that the structure, normative legal base of the Ministry have been improved in the past 6 years.
Touching on the services of the tax offices, the Minister pointed out some shortfalls in this field: "The Ministry of Taxes have not yet fully complied with the instructions of President Ilham Aliyev. A number of tax officials were dismissed due to the shortcomings in their activity in the previous years".
F.Mammadov also admitted that, two senior officials of the tax offices have been detained and added that the Ministry of Taxes and relevant structures were aware of their crimes beforehand: "Investigation is underway on the detainees. I always stated in the staff meetings that, every tax official should be honest and serve our state institution".
Sahir Mammadkhanov, Head of Department for Tax Payers at Ministry of Taxes noted that, thanks to the efforts of tax officials, tax incomes had increased since the Ministry establishment. According to him, a number of measures will be taken to improve normative-legal base in this field.
The Head of the Department Akif Musayev stressed that gross domestic product increased by 2.5 times for tax service in the past 5 years.
123 tax officials of the Ministry of Taxes have been awarded on the occasion of the professional holiday.
The Minister promoted the ranks of 58 officials earlier and 40 were awarded in the amount of their salaries. 6 regional tax officials were awarded diplomas and 3 were awarded special gifts of the Ministry. Reprimands on two tax officials were abolished earlier.