Two more bank organizations operating in Azerbaijan – Atrabank and Azerbaijan Microfinance Bank were admitted to the Visa International payment system as the associated members.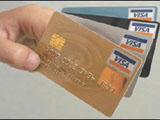 As APA reports, the International Bank of Azerbaijan, founder of the Azericard Processing Centre acted as a sponsor in this process. The documentation activities on admission of both banks are currently carried out.
The final statement on membership of the Azerbaijani banks will be published in February this year.