The Company's president Paolo Perviz made comments on his leaving Azerbaijan , and stoppage of his company's activity.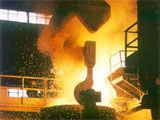 As ANS reports, he elucidated news spread by the mass media of the country recently about as if the Baku Steel Company had shut down forever.
Paolo Perviz said that every big enterprise can encounter problems and temporary breaks in its work and added that it is not right to exaggerate and politicize this issue: "The Company has stopped its production for 2 weeks because of decrease of ferrous metal cuttings supply, but not because of political processes. The Company was faced such problems in former times, too. But the government intervened in the problem and addressed it. Today the government helps us with this problem as well, because the main reserve of waste metal is at government's command".
The head of the Company also noted that currently the government plans to prepare a mechanism for state organizations' systematically selling waste metal being at their disposal to the still mills.
Concerning the news about as if he had escaped from the country, Paolo Perviz said: "I want to tell those persons that I have not left the country. After the 2-week pause ends, production will be resumed starting from February 1. Repairs will be conducted in the plant during this period. The pause will not affect wages of the employees in any form".
According to the words of Paolo Perviz, the head of the state have an instruction to the steel mill not to stop its activity: "The Minister of Economic Development Heydar Babayev said in his yesterday's explanation that all efforts will be mobilized and the Company will be supplied with raw material. Stoppage of our activity is damage to the building sector. Because 90% of armature used in the building field is produced by our mill".