US-Azerbaijan Working Group on Economic Cooperation held a meeting in Washington where prepared a plan of action for future development.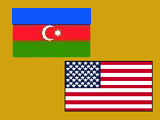 "Co-operation issues in different fields of economy were reflected in the plan," said the counselor of the embassy of Azerbaijan to USA Fikrat Pashayev.
Firstly the working group discussed macroeconomic situation and development in Azerbaijan, gross domestic product, oil incomes and their utilization, information on inflation. Then the group discussed state budget of Azerbaijan. The Azerbaijani side informed about the fields it plans to develop. Both sides stressed that year 2006 will be a year of development for Azerbaijan.
Secondly, the group discussed trade and investment climate between USA and Azerbaijan. The Azerbaijani side informed about the trade balance and investment climate in the country.
Pashayev said that the issue on Azerbaijan's admission to the World Trade Organization (WTO) had also been discussed: "The USA side informed that it will continue its assistances in this direction. At the same time, bilateral relations between the countries, assistances in the framework of the different projects were discussed as well. Significance of construction of the Baku-Tbilisi-Ceyhan oil and Bali-Tbilisi-Arzurum gas pipelines, and Baku-Tbilisi-Kars-Akhalkalaki railway project was noted and included in the final document".
Next meeting of the Working Group will be held in Azerbaijan in spring of 2006 in one of districts of Azerbaijan, excluding Baku.
APA