The International Commission on Bioresources of the Caspian Sea fixed national quotas for fishing sturgeon and caviar export by Caspian countries.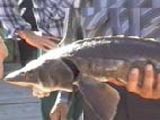 The chief of the press-service of the Ministry of Ecology and Natural Resources Gulshan Huseynova told APA that the quotas of all Caspian countries for the next year have been reduced. The decision was explained by a need to increase volume of bioresources in the Caspian Sea.
This year the fishing quota of Russia compiles only 258 tons while this year it was determined to be equal to 371 tons. Iran that was allowed 595 tons of sturgeon this year next year will get only 50 tons; Kazakhstan instead of current 220 tons will be able to catch only 195 tons.
Azerbaijan's next year quota lost only 8 tons in comparison with this year and compiled 92 tons. As to caviar export, Azerbaijan was permitted to export 6,5 tons of caviar next year while this year having quota of 6,7 tons.
It should be noted that these quotas are fixed by the International Commission on Bioresources of the Caspian Sea, and are confirmed by the secretariat of the Convention on International Trade with Endangered Species of Wild Fauna and Flora (CITES) situated in Geneva.
APA