A decree on ensuring execution of the law on denomination of manat and other legal standard documents, issued by President Ilham Aliyev has become effective today.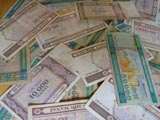 The goal of the decree is to ensure the implementation of the law on "Application of the denomination of manat and the other legal standard documents".
The Cabinet of Ministers starting January 1, 2006 is obligated to ensure adjustment of the existing standard documents in line with the mentioned laws and inform the President on that.
Trend