"The problem created by the "Azeronline" Joint Enterprise (JE) for other 21 Azeri providers has not been solved yet," said Sabir Babayev, the director of a department of "Azeurotelecom" JE - one of the providers facing difficulties because of unfair rivalry by "Azeronline".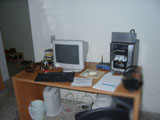 Babyev said that "Azeronline" does not pay any heed to the request of other providers to stop its discount campaign and that is why affected providers can stop their traffic with "Azeronline" again.
In its turn "Azeronline" rejects the fact of holding an unfair rivalry. As it informed APA news agency, the company does not intend to stop the campaign just because other providers demanded it.
The counselor of the Ministry of Communication and Information Technologies on technical issues Iltimas Mammadov told APA that the providers are currently holding talks with "Azeronline" trying to reach an agreement to solve the problem. However Mammadov was not optimistic regarding the talks noting that it is expected that "Azeronline" will be isolated by other providers again.
The Ministry of Communication and Information Technologies will gather for a meeting where they will discuss current situation with Azeronline and will try to find solution to eliminate the problem.

It should be noted that "Azeronline" allowed clients of "Azercell Telecom" to use 200 hours of Internet paying only 99 thousand manats and recharge their accounts through a webpage with any desirable number of hours. Other providers disagreeing with such methods of competition declared blockade of "Azeronline" and stopped the traffic with "Azeronline" few days before the elections started. Only an interference of the Minister of Communication and Information Technologies pushed the providers to reestablish the traffic with "Azeronline" however they promised that if "Azeronline" will not revise its policy they will block it again.
APA