The next 13 session of Black Sea Economical Cooperation Organization Council of Ministers [BSEC CM] will be held in Chisinau, Moldova tomorrow, October 29. Azeri delegation led by the deputy of the Minister of Foreign Affairs Mahmud Mammadguliyev will also attend the session.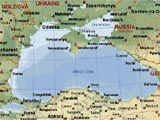 Thirteenth session of BSEC CM will focus on drawing requirements for countries who will wish to become observers at the BSEC, working out rules of using BSEC Reserve Foundation, issues of cooperation among the member states, as well as on the activity of BSEC International Permanent Secretariat, staff appointments in the Secretariat, budget of BSEC and other important issues.
It must be noted that the organization currently consists out of 12 states: Azerbaijan, Albania, Bulgaria, Armenia, Greece, Georgia, Moldova, Turkey, Romania, Russia, Ukraine, Serbia and Montenegro are members of the BSEC.
Azerbaijan became acquired a full membership in the organization in 1992.