The BTC construction works are at the final stage. "The oil will flow in Ceyhan late 2005," promise BTC executives.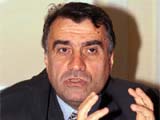 "At present, the fulfillment of the Baku –Tbilisi-Ceyhan  (BTC) main export oil pipeline continues smoothly. We are currently in the process of completion of testing to ensure the integrity and security of each section of the pipeline," informs press service of BP-Azerbaijan company, an operator of the BTC Company.
Officials of the company state that a work at the BTC construction is in the final stage. "We hope to conclude the work here by the late 2005, even though it seems more and more difficult,"  states BP. The key objective according to the company is to ensure safe and efficient oil transportation via the BTC, which will be exploited over 40 and more years.
According to Natik Aliyev, the General Director of BTC Co., the pipeline company has not changed the schedule of shipment of the first tanker with Azeri Light from the Turkish port Ceyhan. "We try to ship the first tanker from Ceyhan late this December," Aliyev underlined.
Trend