"The request made to the Cabinet of Ministers by "Bayva Energy" Management Center on canceling its contract has not been replied yet", said the chief of press and law service of "Bayva" Tahir Alirzayev.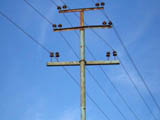 Alirzayev informed that the company continues its activity at the moment: "Our appeal to the Cabinet of Minister on cancellation of the contract does not mean that we stopped our activity. We function at present and can function in future, too."
Alirzayev stated that currently Bayva Energy is preparing for the winter season. "We will try to improve energy supply of population this year in comparison with the previous one" he promised noting that Bayva is also implements installation of electricity meters in regions and started construction of new substations in Aghsu, Lenkeran, and Lerik districts.
At the end Bayva official expressed his attitude towards the words of the former minister of economic development Farhad Aliyev who said that the contract with "Bayva" can be cancelled only in case if "Bayva" fulfills all its obligations. Alirzayev noted that reconsidering obligations and conditions was indicated in the request made to the Cabinet of Ministers.
"We appealed for obligations and conditions undertaken by us to be reconsidered and changes to be made. If that will be accepted, maybe we will continue operating".
On the other hand, the press-service of the Cabinet of Ministers pleads to have no information on the request of "Bayva" to the Cabinet.
APA/EV