Azerbaijan should not be either hasty or slow at the consultations to join the World Trade Organization (WTO), deputy Foreign Minister of Azerbaijan Mahmud Mammadkuliyev told Trend.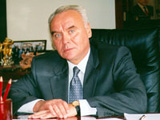 There is a small break currently for Azerbaijan to get ready for the next round of talks scheduled for February – March 2006 in Geneva. «Responses to those questions which were put in the current June are underway. The number of questions as compared to the previous round, dropped, there are now some 100 of them. A new position of Azerbaijan related to tariffs, proposals on service, agriculture and etc" is underway», he noted.
Mammadkuliyev did not comment on the possible time for the Azerbaijan's accession to WTO. «It is a complicated negotiation process. One can, of course, agree to all the requirements of the principal member states, to sign all papers. However, I do not think, it will be proper. Azerbaijan is to defend its positions especially in those directions, where it has good perspectives for the national production development and to become exporter. Along with this, one should not be late, as the WTO requirements to the candidate countries enhance. Our main trade partners have advanced far in the issue: Russia, Ukraine, Kazakhstan», deputy Minister said and added, the talks are to be held rationally, with the country's interests taken into account.
According to Mammadkuliyev, practically all WTO countries, including the major ones, support Azerbaijan's entry to WTO. The USA, interested in this process at WTO render technical assistance to Azerbaijan during three years.