The Ganja automobile plant (GAP) has set up assembling of cars of different models of the Ulyanovsk Automobile Plant (UAP).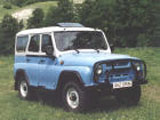 Khanlar Fatiyev, the Director of the GAP, told Trend about it.
The GAP plans to assemble UAZ cars of 14 modifications.
"At the moment we have received 57 incomplete car sets and assembled them. Today we are involved in the assembly of UAZ cars of 6 different modifications," he noted
Fatiyev underlined that by the end of the year it was planned to output 350-400 similar cars. "The amount of production will be defined in the consumer market. In case the demand in cars boost, we have necessary potential for expansion of production," the Director of the Plant said.
GAP signed a general agreement, the second in turn, with the UAP early May 2005. The first agreement of the kind was signed with the automobile plant ?AMAZ, automobiles 'OKA', which is currently assembled in the GAP. The GAP continues similar talks with two Chinese companies.