"The political relations between Azerbaijan and Poland are in the highest level, but we have good opportunity to develop economic relations, particularly, increase goods turnover."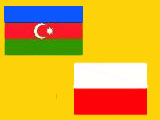 Kshishtof Kraevskiy, the newly appointed Polish Ambassador to Azerbaijan, informed Trend about it.
According to Kraevskiy, annual goods turnover comprises less than $40m, while Poland can purchase Azerbaijani oil and oil products, Azerbaijan – Polish foodstuffs and industry goods.
According to Kraevskiy, the bilateral relations will enter into a new development stage, after expected political changes in Poland, particularly, presidential and parliamentary elections. "There are very warm and good relations between our Presidents and similar relations must be established between the heads of other state structures," Ambassador stressed.
The diplomat intends to do his best in this relation and regards continuation of consultations between the Ministries of Foreign Affairs as important.
The diplomat arrived in the country on 15 August and handed his credentials to Elmar Mammadyarov, the Azerbaijani Minister of Foreign Affairs. He will be received by Ilham Aliyev, the Azerbaijani President, soon. Kraevskiy comes as the second Polish Ambassador to Azerbaijan.