Drilling equipment for the RV Investment Services Grou? LLC will be delivered to Azerbaijan from Europe on 5-7 September this year.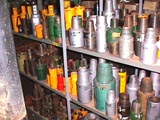 This equipment is designated for conducting drilling works on the gold-bearing fields in Ordubad and Gedabek.
After commencement of the drilling works new gold mines are planned to set up. The designed capacity of mines in Piyazbashi and Shekerdere, Ordubad region, will make up 250,000 ounces a year. Mostly local specialists, geologists, engineers will be involved in the work at the enterprise after taking special courses. Totally, 500-700 people will be employed.
For the moment the specialists prepare the Feasibility Study on 7 perspective fields. The initial investments for the first stage of works for setting up mines are planned in the amount of $50 million. For the commissioning of the enterprise, by the preliminary estimates, about $600 million will be needed.   
New gold-bearing mines are scheduled to commission in the III quarter of 2007.  (Trend)
According to the contract, signed on 21 August 1997, 9 gold fields of Azerbaijan are planned to exploit. However, 3 gold fields are under the Armenian occupation in Zangelan and Kelbadjar regions.