The signing of several intergovernmental agreements is on the agenda for the upcoming two-day visit to Azerbaijan by Turkish Prime Minister Recep Tayyip Erdogan.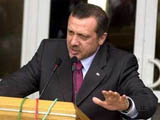 In particular, there will be signed a Protocol on technical cooperation, with the Turkish Agency for international development with the Turkic-language countries (TIKA), according to the Azerbaijani Cabinet.
In addition, the competent state structures and governmental bodies of both countries will likely witness other documents regulating the cooperation in the fields of education, veterinary medicine, and mapping and cartography, as well as protection of copyright, and coordination of efforts in states of emergency.
Turkey's Prime Minister Recep Tayyip Erdogan arrives in Baku on June 29.
On the eve of the visit, Turkey's ambassador to Azerbaijan, Turan Moraly stated that Erdogan would participating in the ground-breaking ceremony dedicated to the construction of the building of the Turkish embassy (opposite to Azerbaijan's Ministry of Finance) in Baku's Samad Vurghun street, and have a meeting with members of the Union of businessmen and Azerbaijan and Turkey (ATIB) and the Society of Turkish entrepreneurs (TUSIAB).
The Prime Minister will also have meetings with the speaker of Milli Majlis (parliament) Murtuz Alasgarov, as well as his Azerbaijani counterpart Artur Rasizada and the country's President Ilham Aliyev.