"KfW" Development Bank of Germany allocated means for developing the project of development of retail service in banking systems of Georgia and Azerbaijan by the end of next year.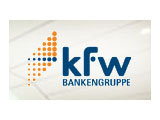 According to the information given to APA from the bank, the volume of the allocation is 1.8 million euros and this is for technical aid to the banks. Three banks has been involved into the project from Azerbaijan and Georgia.
It must be noted that, the fund will assist the banks of Georgia and Azerbaijan in the direction of applying more advanced bank products and development of bank nets.