The "KCA DEUTAG" company signed a 3-year treaty with "bp" on letting down a pipeline under pressure into a well in the "Shahdaniz" gas deposit.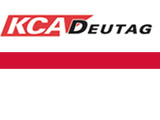 According to the treaty, the works concerning the "KCA DEUTAG" company will be realized together with the "International Snubbing Services Inc" company. The treaty includes the engineering work, letting down the pipeline under high pressure into the well and fixing the plant inventory managing with pressure.
It is eight years that the "KCA DEUTAG" company has been realizing operations in the frame of the "Azeri-Chirag-Guneshli" project.
/APA/