The Government of Azerbaijan has rejected a $19-million IMF tranche in the framework of the Poverty Reduction and Growth Facility (PRGF), citing an expediency to support poorer countries.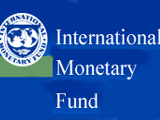 Following the announcement, Finance Minister Avaz Alakbarov said that the Government had explained its decision in the corresponding letter addressed to the management of the Fund.
"This issue will be discussed at a meeting of the IMF's Board of Directors on June 24. In this letter, Azerbaijan has recommended (the Fund) to spend the amount of the tranche on supporting the countries, which are poorer than Azerbaijan," the minister said.
Another reason for refusal is the growth of currency and exchange reserves of the country. "Over the past years, there has been a significant increase in the amount of financial resources. And the inflows will grow yet higher following the commissioning of the Baku-Ceyhan oil pipeline," the minister noted, adding that this will be more than enough to cover all costs for a military resolution of the Azerbaijan-Armenian ethnic conflict over Karabakh.
"Currency reserves will be mainly used to strengthen defense capacities, as well as support small- and medium-size businesses, and to implement social projects. We have enough money and other financial means for that," the minister stressed.