Yesterday President Ilham Aliyev has signed order on establishing of "Azerheatingsupply" Open Joint Stock Company.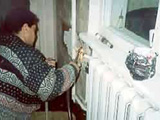 According to the information given to APA from the press service of President's Office, "Azerheatingsupply" OJSC will execute heating problems of houses , buildings as well as other objects heting problems.
At the result of establishing this organization State Construction and Architecture committee's "Heating-energy supply" Unity of the Republic has been liquidated, its functions as well as institutions at it was given to "Azerheatingsupply" OJSC.
Baku city Heating Office of Baku City Executive Power was liquidated and its property and functions have been given to "Azerheatingsupply". Measures related to the execution of heating problems will be implemented by The Cabinet till "Azerheatingsupply"OJSC organizes its works. With the other order of the state head Yashar Hasanov was appointed chairman of "Azerheatingsupply"OJSC.