The Caspian Shipping Company of Azerbaijan works with Palmali on normal conditions, Aydin Bashirov, the chairman of the CSC, said.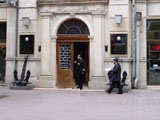 He was commenting on reports asserting the CSP and Palmali were in bad terms in the Caspian basin.
He noted that the cargo deliveries were implemented by tankers of the CSP. "However, if needed the tankers sailing under foreign flags will be attracted to the processes," Bashirov underlined.
He also noted that a problem linked with the permission of the CSP's ships to internal waters of Russia is still to be defined. "We do not have an agreement with Russia on sea shipping and use of internal waters. Russia does not provide permission as we are interested first to sign an agreement on use of internal waters and second on sea shipping. However, Russia does not agree with such order," he underlined.
In 1994 Russia closed its internal water passages for vessels of foreign companies in connection with the armed actions in the territory of Chechnya. At the request of the CSP in February to March 50-55 passages have been implemented on the base of temporary permissions.
At present 3 vessels – Maestro Niyazi (from 24 April), Natavan (from 3 May) and Rasul Rza (from 8 May) - are waiting for permission in the Sea of Azov. "Though Russia does not permit use its internal water, over 20 passages were implemented from Azerbaijan to Russia," Bashirov underlined.