Barmek Azerbaycan, operator of the energy supply networks of Baku and Sumgayit, intends to borrow $40-50m credit from the European Bank for Reconstruction and Development (EBRD), Husseyn Arabul, the president of Barmek Azerbaycan, told Trend on Monday.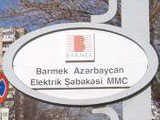 According to Arabul, the issue will be discussed with the EBRD on Tuesday. "We plan to take a loan with clearing off term of 7-8 years ???. In accordance with our calculations, $40-50m is required for the implementation of our investment project on develop of energy networks within the nearest 3 years. The Ministry of Economic Development allowed us to borrow credit, as it will enable us resolve the energy problems of Azerbaijan in a short period," Arabul underlined.
The President of Barmek Azerbaycan noted that the funds will be directed at the development of energy supply networks, Barmek Azerbaijan Electrikmekhaniksenaye plant and implementation of the project on construction of hydro-power stations. Arabul did not inform on the construction of new HPS, but noted that the company's plans on the implementation of the projects in the electric energy sector.