The Azerbaijan International Operating Company (AIOC) has started the transportation of Azeri Light oil via the connection pipeline from Sangachal terminal to a terminal of the Azerbaijani company Azpetrol nearby.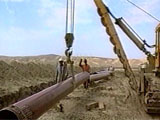 This information was provided to Trrend from AIOC.
Since 1 June the oil fulfills the 12km-long connecting pipeline between the terminals. Azpetrol will deliver Azeri Light via the Azerbaijani-Georgian railway onwards to the Batumi port. 
Azpetrol is supposed to deliver 40,000 tons of Azeri Light to Batumi in June. The AIOC plans to exploit the route with in a shirt period until the commissioning of the Baku-Tbilisi-Ceyhan pipeline.
The commencement of the oil delivery via the Azerbaijani-Georgian railway enabled the AIOC to decrease the crude export via the Baku-Novorossiysk pipeline and provided vacant capacity for transportation of 85,000 tons of oil in June.
The SOCAR will ship 85,000 tons of oil on 29-30 June through a tender with results to be announced on 7 June.
In July and August Azpetrol will deliver 40,000 barrels of oil a day by rail to Batumi. In September it is planned to halve the export to 20,000 barrels a day.