The Ministry of taxes brought a criminal action against Stock Society of Open Type SSOT «Garadag-Cement».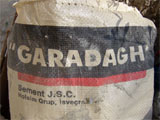 The agency Trend reports, the criminal action was brought by Department of preliminary investigations of crimes at the Ministry of taxes on item 213.4 (avoidance from taxes in big amount).
The ministry informed, employees of the department on work with big taxpayers of the Ministry of taxes run tax inspection in SSOT from 21 February to 24 May this year. The inspections covered the period of activity of SSOT from 1 January 2003 to 1 January 2005.
During field inspection tax bodies were presented accountancy documents with distorted information about incomes and expenses. Thus, it was detected, SSOT evaded payment of taxes to the state budget in total volume of 13 289,5 mln manats.
The Ministry of taxes indicated, investigation in the department of preliminary investigation of tax crimes is continuing. The Ministry of taxes also undertook informing community as additional information during investigation arrives.