Danish company Maersk drilled 4100 meters during passage of the first exploration well in structure "Yalama" (block D-222) by order of Russian LUKOIL, the agency Trend reports, the reliable sources inform about this.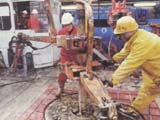 The well is drilled as previously, at clay materials.  
Sources indicate, possibility to find significant volumes of hydrocarbons at this well accompanied clay collector practically come to nothing. "However, LUKOIL intends drilling the well further for clarification of stratigraphy of section up to designed depth. The company needs this for adoption of decision on rationality of drilling of the second well at "Yalama", the sources indicated.
Drilling of the well is realized by means of modern drilling plant "after Heydar Aliyev" (former Lider).