State Oil Company of Azerbaijan Republic (ARSOC) is preparing the future oil export strategy of Azerbaijan taking into consideration Baku-Supsa, Baku-Novorossiysk, and Baku Tbilisi-Ceyhan pipelines.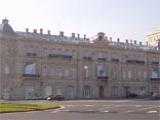 According to the information given to APA from SOCAR, at present time Azerbaijan International Operation Company (AIOC) is transferring oil from the "Chirag" deposit by means of Baku-Supsa pipeline. The Baku-Novorossiysk pipeline was exploited by SOCAR for a long period. AIOC in connection with increasing the oil production from the "Azeri-Chirag-Guneshli" deposit has begun to export its oil in this route since the 1st of last month as well.
The process of filling the BTC pipeline with technical oil (10 million barrel) has already begun, and in October-November months the first tanker will be loaded from the Ceyhan port. It is included to prepare the optimal proportion of oil transferring from Azerbaijan in the export strategy.
That is, there will be reflected problems as plank of export amount fro the Baku-Supsa pipeline will be reflected in this strategy. At present the company is being reviewed some variants.