BTC Co, operated by BP, has started filling the BTC head pump station at the Sangachal terminal (PSA), marking the first line fill phase of the Baku-Tbilisi- Ceyhan (BTC) oil export pipeline, the agency Trend reports.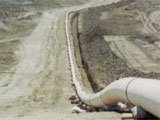 This follows full completion of construction and commissioning of the head pump station (PSA).
The first stage of line fill and operational testing is in anticipation of the celebration of first oil into the Heydar Aliyev BTC main export pipeline on May 25th.
Press release underlines, a total of 10 million barrels of crude oil is required to fill the 1770 km long line running from the Sangachal Terminal near Baku via Georgia to the Ceyhan Terminal on the Mediterranean coast of Turkey.  
The oil comes from the Azeri-Chirag-Gunashli (ACG) field in the Azerbaijan sector of the Caspian Sea. The staged filling of the pipeline along its entire route could take over six months and the loading of the first tanker at Ceyhan is expected in the fourth quarter of 2005.
The BTC Co. shareholders are:  BP (30.1%); SOCAR (25.00%); Unocal (8.90%); Statoil (8.71%); TPAO (6.53%); Eni (5.00%); Total (5.00%), Itochu (3.40%); INPEX (2.50%), ConocoPhillips (2.50%) and Amerada Hess (2.36%).BP.