The president of State Oil Company of Azerbaijan Natik Aliyev appointed by his decree the new vice-president of the company.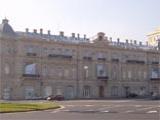 The agency Trend reports, SOCAR informed, Shahin Mustafayev was appointed, as the vice-president on financial issues.
SOCAR indicated, previously, S. Mustafayev held the position of the head of department of management of finances of the State Oil Company.
Thus, presently, management structure of SOCAR is as follows: the head of SOCAR - Natik Aliyev, the first vice-president on geology and geophysics Khoshbakht Yusifzade, the vice-president on financial issues - Shahin  Mustafayev, the head of PU "Azneft" - Yaver Jamalov.
Annually, SOCAR produces from its fields 9,8 mln tons of oil, 6.4mln tons  from this amount is distilled at two Baku Oil Distilleries, 2,5 mln tons is  exported by pipeline Baku-Novorossiysk.