The Ganja car plant produced 103 cars for the first quarter of this year.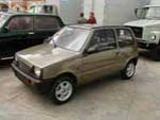 The agency Trend reports, the director of Ganja car plant Khanlar Fatiyev informed, thus, starting from reconstruction of production, the Ganja car plant produced 146 cars.
For the last week of 2004 (production started in the plant 24 December) the Ganja car plant produced 43 cars by order of the Ministry of labor and social security. "Presently, we plan to assemble additional 80-90 cars, by 9 May", K. Fatiyev said.
The plant produces cars of "Oka" brand. Totally, plant plans to produce in 2005 about 3 thousand cars of this brand. Previously, K.Fatiyev mentioned, marketing researches indicated, the market of Azerbaijan has demand in about 2 thousand cars of "Oka" brand. Balance cars are purposed for export.